Credit Control / Management Software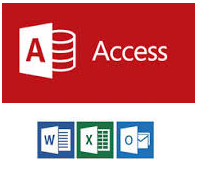 - Keeps track of promised payments, reminds you when to chase
- Contact information at hand when chasing for payment
- Instantly e-mail outstanding transactions list
- Forecast reports of 'Cash due in'
- Automatically updates itself with details from your host accounting
- Get the Money in!
Getting paid for goods supplied and/or work carried out is vital to the survival of any business. 'Credit Manager' assists in this task by providing you with a simple on screen view of customer debts, contact information and details of the promises your customers have already made.
Compliment your existing Accounting System
'Credit Manager' automatically updates itself with current debtor transactions from your existing accounting software. Any transactions previously updated into 'Credit Manager' that have been paid are dropped from 'Credit Manager' as they are no longer of interest having been paid. New Invoices/Transactions will be updated to 'Credit Manager' ready to be chased for payment on the due date.
Credit Manager' provides simple easy views of current debtors revolving around the traditional aged debtor reports. 'Credit Manager' provides this view on the computer screen so that you can choose the customers to chase and then just click a button to see all the outstanding transactions and contact details to enable you to call and get the money in. You can then record new promises
Viewing your Debtors View debtors in several ways. View all debtors, ones to chase today or ones to chase in the next week and so on.
Set the view type/style to see the traditional 30/60/90 view or display a consolidated overdue column.
Change the sort order on the screen by Customer Ref, Customer Name or Aged Value. This can be useful to chase highest valued debts first.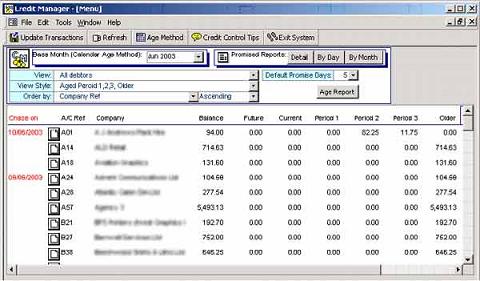 Make Notes of Promises and be reminded While you are on the phone to your customer chasing money just simply click on all the invoices that they have promised to pay and add a note and promised by date and the 'Credit Manager' will record this information and bring it up in front of you on the selected follow up date when you select 'Chase up to today' as your view.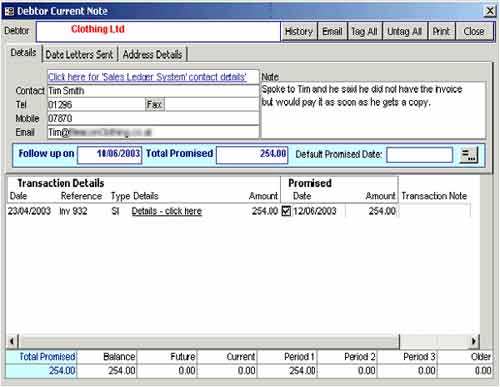 History Every time you update the 'Current Debtor Note' a record is written to the history file recording the note that you wrote as well as a list of the invoices that you ticked as promised to pay. You can view this history anytime by clicking the 'History' button.
Email Statement List You can also automatically email a statement type list of the current outstanding situation to your customer in the form of a Text file, HTML file, Spreadsheet or Rich text file.
Please contact us for further details and a link to download a trial version.