About Microsoft Access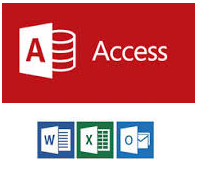 Microsoft Access is part of the Microsoft Office Software that includes Word, Excel, Outlook, PowerPoint ,
Publisher and other modules.
Microsoft Office has been the standard since the early 90's for communication between business for
Documents, reports, emails, presentations etc.
Many people do not realise that included in the business professional version is Microsoft Access, an incredibly powerful database development system. Many professional software companies laugh it off as a noddy program and amateur. They are so wrong.
Within Microsoft Access you have:
Database Tables to store the information you require and these can be customised to your choice


Form Designer that enables the creation of professional interface screens for a user to enter and view data


Reporting - A report designer that can create extremely complicated reports or just simple ones


VBA - MS Access includes the VBA programming language. In effect this is MS Visual Basic that has been used for decades to develop millions of professional systems worldwide by Software Companies. Even better, VBA is a part of Word, Excel and Outlook so using the VBA programming language enables these to talk to each other.


ODBC Connectivity - This means you can use MS Access as your front end interface with all your data entry and reporting but use other scalable databases as your 'back end' data store such as MS SQL Server, Oracle, MYSQL etc. that can store millions and million of pieces of information.
In the right hands MS Access is an amazing development platform. Everything in one Box.
A great advantage is SPEED OF DEVELOPMENT. Hence cutting the cost of the system you require.
Hive Solutions are MS Access Specialists and can use this tool to develop whatever system you require for your business quickly and effectively.